View this post on Instagram
April is Earth Month! As a place of beauty and wellness, we'd like to share some ideas to change up your routine to be more environmentally friendly—not just this month, but every day, because "Earth Month" should be a lifelong thing.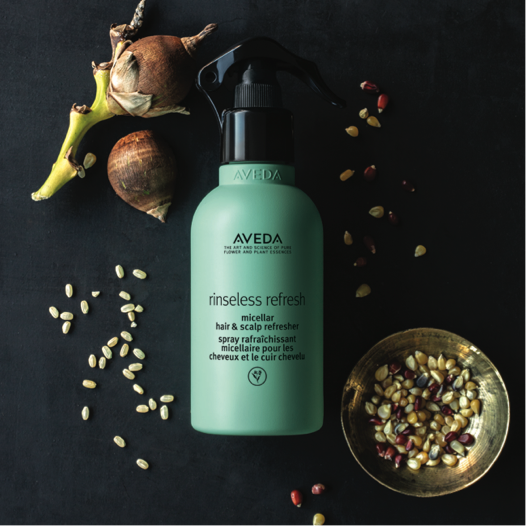 Source: Aveda
1: HAVE NO-WASH DAYS
Did you know that if you cut minutes from your shower, you could save six gallons of water a day? Giving your hair a little wash break not only helps with texture and preserving the natural oils in your hair, but it also saves water. For days when you don't wash, you can keep your scalp clean and revived with Aveda's new Rinseless Refresh. It uses no-rinse micellar technology to cleanse the scalp and revives the natural texture of your hair while providing lightweight hold and frizz control. Complete your no-wash day hair routine with Shampure dry shampoo to absorb excess oil as well as the new Heat Relief which conditions and protects against thermal damage up to 450 degrees.
2: GET CRAFTY
Before you go and throw away your empties, try to find a new purpose for them. Your glass and plastic bottles can easily be turned into candle holders, flower vases, food & storage containers and even super cute planters.
3: LITRE-SHIP SKILLS
Save money, time and plastic! Purchasing your favorite Aveda shampoo and conditioner in litres costs 20% less per ounce and uses up to 28% less plastic by cutting down the amount of times you have to refill it.
4: GO PAPERLESS
Catalogs, flyers, bills and promotional materials use up so much paper and let's face it, that stuff usually ends up right in the garbage. By opting for paperless bill pay, email newsletters and online subscriptions, you are greatly reducing the amount of paper used. Not only that, but going digital gives you quicker and easier access to these documents.
5: PARTY WITH US
On May 5th, join us for a casual morning of fun and conversation as we gather to support our annual Earth Month event. This year Team Avalon is inviting our guests, friends and family to join us and support us in our goal of $5000. Pets are welcome, too!
Kick off will begin at Avalon at 8:30am. We will walk through the scenic pathways behind Deer Park Town Center. While this is a free event, each Avalon Team member has been challenged to raise a minimum of $100 towards our goal of $5000. Don't forget to bring extra cash for Avalon raffle baskets filled with gift cards and AVEDA products. Raffle tickets will be available for our silent auction prize tables at the event. Winners will be drawn at 11:30 am following the walk.
If you are unable to join us, please consider sponsoring one of your favorite Avalon Team members. All proceeds will benefit Alliance for the Great Lakes which helps restore clean water to our Great Lakes. Raffle tickets will be available for our silent auction prize tables at the event. For more information call (847) 726-8855.