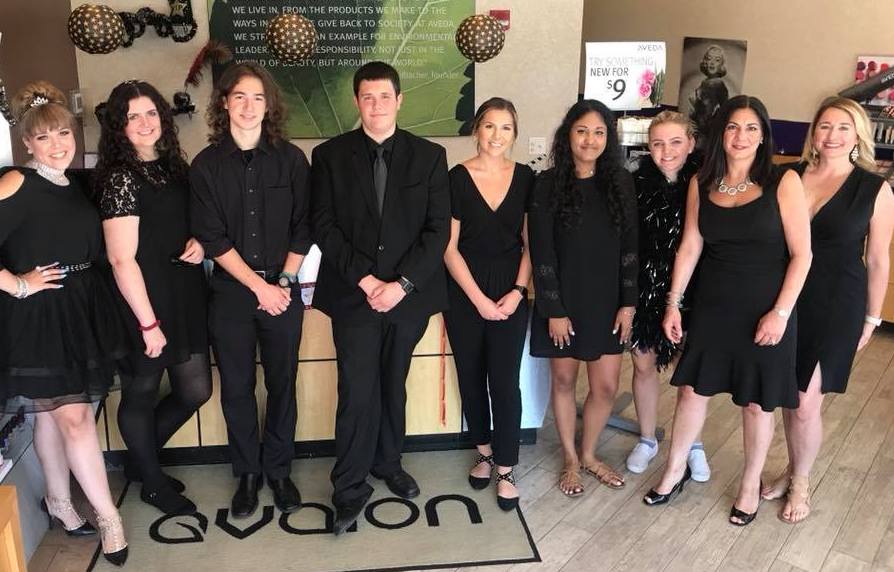 Unparalleled services. Invaluable connections. Thriving careers. It all comes together at Avalon Salon Spa with a group of exceptional stylists who share the same love and passion. We're looking to add creative, unique, dedicated people to our amazing team.
If you:
– Love giving people a WOW experience
– Have an easygoing attitude with a killer work ethic
– Enjoy being part of a team
– Want to work with people who are likely going to become like family
– Enjoy giving back to the community
– Hungry to learn & build your skills
– Want a career with opportunities to grow—not just a job
Then we want YOU!
ATTENTION NIGHT OWLS
We're making it more convenient for our busy guests to enjoy our services. After 5pm, we're turning up the music, pouring drinks and keeping it open for those who need later appointments. We need fun, energetic, creative people who can vibe with the "happy hour" feel for the night shift. We want our guests to feel like they're hanging out with friends—because they are! This position is available for full and part-time.
WHY WORK WITH US?
A work-life balance is important to you (and us).
Our salon is located in Deer Park, Illinois and provides a cozy, upbeat atmosphere for both the guest and stylist. We want this to be your home away from home. All that, plus:
– Flexible scheduling, including evening hours
– Advanced education / in-salon training
– A chance to lend your talent to local organizations and charities
– Paid vacation
– Medical insurance
– Life insurance
– Collective team bonuses
We want you to feel beautiful.
The more Aveda you have in your life, the better! We offer a 40% discount on premium retail products to all our stylists, as well as generous deals on our services so that our team can relax, look and feel their best.
We pay you to learn.
We want to build your confidence behind the chair, so educational workshops or classes are on us. We provide teaching and coaching for everything covering retail, nail, hair, spa and more. You're paid during your educational sessions, and come out with fresh knowledge and the confidence to create amazing guest experiences.
There's plenty of room to grow.
Our goal is to make you more successful. We promote from within so our stylists can grow in their careers. There are always opportunities to advance here.
View this post on Instagram
The Avalon Team at Aveda Congress 2018
WHAT WE'RE MADE OF
DIVERSITY
We are a large melting pot made up of a wide range of ages and ethnicities. Throughout our amazing staff we speak 12 languages. Our seasoned service providers help guide new talent.
TEAMWORK
Our team supports each other, we don't compete. We work on hourly pay, not commission, and bonuses are based on team performance.
COMMUNITY
Giving back to the community is part of our culture. We've worked with local charities like Alliance of Great Lakes and ClearBrook.
ACCOMPLISHMENTS
We are an award-winning salon that not only gets recognized for our excellent customer service, but also for things like our compensation and benefits package, too.
A few bragging rights:
– Named among the Salon Today 200 by Salon Today magazine every year since 2003
– Voted Best Women's Hair Salon and Best Day Spa by SW Lake Lifestyle magazine
AVEDA
Aveda salon professionals are continually educated on the latest trends and techniques to transform a look with styles inspired by the fashion runways from around the world. Our spa professionals undergo regular training to stay informed of latest advancements in body and skin care so they can practice the art of healing, rejuvenating and refreshing the mind, body and spirit. As an Aveda professional, you will understand how to listen to your guest's needs and provide them with a thorough consultation so they can be comfortable and confident during their salon/spa experience.
Positions Available
– Stylists
– Interns
– Massage Therapists
– Guest Services
We want to see your career take off! The only question is: Are you ready?
Submit your résumé online.
Looking forward to getting to know you!